What is a Dry Lease?
Lease our airplanes directly without the crew. We rent you the airplane and turn over operational control of the plane to you for your trip. This is perfect for pilots! Not a pilot? Lease our planes and hire your own, trusted pilot to fly. If you don't already have one, we maintain a list of pilots* that we trust for our own company trips. They have full training and are qualified to operate our aircraft.
How does the program work?
Simply sign a lease with us and provide a security deposit upon signing. This will give you access to all our program airplanes. Leases are based on a 12-month period and have an automatic 12-month renewal period. After that, a new lease will be negotiated. You can cancel the lease at any time by following a specified termination procedure. During the period of the lease, you or your pilot can notify our Program Coordinator of your planned dates and destination. Our Program Coordinator works up an estimated usage for that trip and you will be invoiced* for that estimate. It's that easy!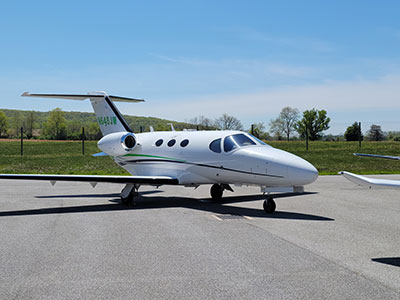 *Due to FAA requirements, we cannot recommend which pilot to use, so we provide a list for you to contact and make any financial arrangements with the pilot you choose to use for your trip.
*The invoice must be paid in full prior to departure. Upon your return the airplane is checked in and actual usage time is calculated and deducted from the prepaid amount. If the actual usage comes under the original estimate, the difference will be available on account for your next trip!
How is a Dry Lease different from Chartering a private aircraft?
The difference is in who provides the crew. In a Dry Lease arrangement, you have full control over how the airplane is operated. You provide the pilot, fuel, and pick the date and destination of your trip. You and your pilot are responsible for making sure the trip is completed safely and within the FAA regulations. On a Charter flight, that responsibility and control fall on the Charter Operator. With a Dry Lease, you have control over your own time while on your trip. Just hop in the plane and go!
What are the benefits of flying private vs. airlines?
Private flying doesn't have to be more expensive! The bottom-line cost is close to that of an airline flight. The biggest advantage is time and flexibility. With private flying, there's no need to arrive two hours prior to your flight or go through TSA lines. Whether flying through a charter or dry lease program, you set the departure time and arrive 15 minutes prior (unless you are flying yourself). There are no parking fees, no shuttles, and no standing in line! This flexibility means you can take a business trip to multiple locations in just one day and still be home at the end of the day to enjoy family time. No need for an overnight hotel stay, rental cars or cab fares.